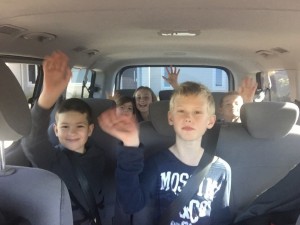 It is a beautiful day so we are geocaching with our parents. Geocaching is where something like a box is hidden and you have to find it.  We need to read a map online and then follow hints to find where treasures are. When you find the hidden box or bottle or jar you then write in a notebook to say you found it and when.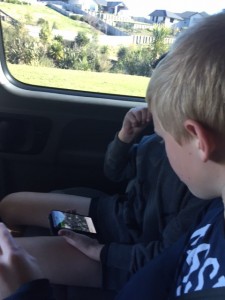 The first geocache we looked for was supposed to be near a bridge.  We read the wrong hints so ended up getting further away from it than where it was.  Finlay found it under a concrete rock area. There was just the notebook plus little plastic toys.  We wrote in the notebook and then hid it again.
The second cache was also near a bridge.  We looked for it for ages and explored near the lake as well.  It was fun jumping across the stream. In the end, Blake's Dad found it. It was a great hiding spot. There was all sorts of stuff inside it.
The third cache was down a walkway we ride bikes on.  The clue was near a sideways growing cabbage tree.  Problem was we found three of them and looked everywhere for it but couldn't find it.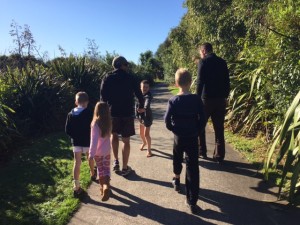 The fourth cache was off another walkway near a school.  There were so many places to look for it. There were dead leaves everywhere and they filled up all the possible hiding spots.  We couldn't find it and decided it was time for ice cream.
Geocaching was fun, exciting and sometimes hard and frustrating.